The Best Men's Razors: From Traditional To Safety
When you're going to be taking a bladed instrument anywhere near your face, it's worth ensuring the tool is up to task. A bad razor invariably means a bad shave, which means a bad start to the day and perhaps even some unnecessary pre-work bloodshed.
This can all be easily mitigated by arming yourself with a good razor from the get-go. Granted, it's probably not the most exhilarating purchase you'll make all year, but in terms of return on investment, it will likely be one of the most worthwhile.
But 'razor' is a broad term these days. There are a lot of different types of razors to choose from and a range of factors to take into account before handing over your money. How much should you be looking to spend? How many blades is too many blades? Just what exactly is a safety razor anyway?
In a bid to address these questions and more, we've compiled a handy guide to the best razors for men and everything you need to know before buying one.
Quick Jump: Traditional Safety Razors | Modern Safety Razors | Shaving Subscriptions | Disposable Razors
Straight Vs. Safety?
Nothing with a sharp blade attached to it is going to be 100% idiot-proof, but some razors are safer than others. That's why it's important to know the difference between old-school straight razors and safety razors.
If you've ever had a traditional wet shave at a barbershop then you'll know what a straight razor is. Also rather off-puttingly referred to as 'cut-throat' razors, these single-bladed shaving tools are essentially just glorified knives. In the right hands, they can produce the closest shave you've ever had, but when used without the necessary experience, well, you get the picture.
That's why you're much better off leaving the straight razors to the pros and opting instead for what is known as a safety razor. They come in two key forms: traditional, double-edged safety razors and modern, reusable safety razors. What unites them both is the fact that they have some sort of guard between the edge of the blade and the skin.
Modern safety razors usually use disposable cartridges with multiple angled blades and plastic and rubber to guard against cuts. Traditional safety razors tend to use disposable, double-edged all-metal blades. With both types, you hang onto the same handle and replace the blades when needed.
Do You Really Need That Many Blades?
Razor marketers are notorious for dreaming up endless gimmicks to keep shifting units. If it carries on at the current rate, we'll be looking at razors with 50+ blades on them, completely covered in gel cushioning strips by the year 2050.
So are any of these so-called advancements actually worth buying into? Very occasionally, but usually not.
Once you get past three blades, the difference in performance is minimal. Multiple blades do help to spread out the cutting surface, making for a smoother shave, but there's a limit to how many you really need.
As for other spurious razor tech like flexible blades, built-in precision trimmers and pivoting cutting heads, do they make for a better shave? Maybe fractionally. Do you really need them to get the job done well? Absolutely not.
Safety, Subscription or Disposable?
You buy a razor from the shop, use the razor, replace the razor's blades when they start to blunt. That's the traditional way of doing it anyway. But these days there's another option worth considering too.
Shaving subscription services have been gaining traction for a good few years now. The idea is that busy men can simply sign up, have a razor delivered and then receive replacement blades and shaving creams in the post as and when required, without having to lift a finger.
This convenience gives subscription services the edge over traditional DIY blade buying for those who often find themselves pushed for time. Plus, it often ends up cheaper than purchasing directly from the shop.
Aside from that, you may sometimes need to resort to disposable razors if you're travelling or away from home. Due to the plastic waste involved, you should do your best to avoid this happening but if it does, try to go for a recycled or eco-friendly option.
How Much Should You Spend?
Thankfully, razors don't tend to be hugely expensive. For a bog-standard modern safety razor, somewhere around £7 is what you can expect to pay. However, when you start looking at classic metal safety razors and design-led options this price shoots way up.
One of these traditional razors from a reputable brand can set you back anywhere between £20 and £300. At the upper end, you're really just paying for the name or the design. The important bit is the blade – and they're only about £1 a pop.
Subscription-wise, the going rate is around £10 a month on average. Although some of the more luxurious services can fetch considerably more.
The Best Traditional Safety Razors
Henson AL13
How do you make a safety razor even safer? If you're Henson, you produce it using the same precision engineering and aerospace-grade machinery that's used to build satellites. Actual satellites. This meticulous approach allows the Canadian brand to offer the closest possible shave with the smallest amount of blade protruding – 33 microns to be exact, which is half the thickness of a human hair. The result is a razor that's built to last and is almost impossible to cut yourself with.
Available in five colour options, it looks pretty spectacular too, and with a lifetime guarantee, you can kiss goodbye to disposable razors and expensive cartridge replacements for good.
King C. Gillette Double-Edge Safety Razor
Gillette is a name synonymous with quality razors. The company was born in Boston in 1901 and the brand's King C line harks back to that golden age with throwback designs and period packaging. This classic double-edged safety razor is inspired by the iconic design that propelled Gillette to success all those years ago, featuring an optimised handle and monogrammed safety cap.
Merkur 38C
German company Merkur is a favourite among professional barbers. Since 1906, the brand has been making some of the best safety razors on the market and the 38C is one of its top sellers. Users often remark on what a smooth shave it provides thanks to its straight safety bar. This makes it a great choice for first-time shavers and those new to the world of double-edged razors.
MÜHLE R89
Another German shaving specialist with a reputation for precision engineering, MÜHLE are highly regarded within the industry and their perennial best-seller, the R89, offers a superb shave and value for money. Perfectly weighted for comfort and featuring a handsome design, it remains a popular choice for beginners and experienced users alike.
Barbarossa Brothers Ottoman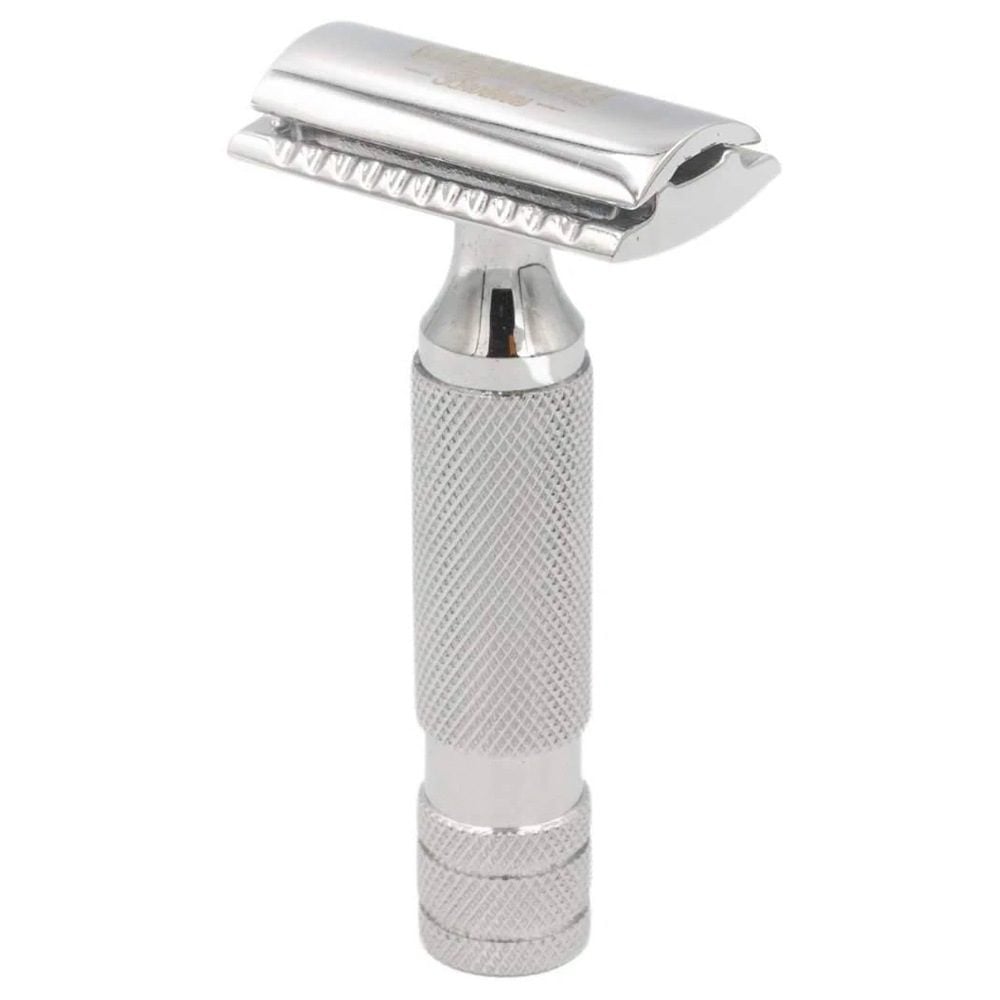 Weighing in at a hefty 150g, this beefy little number from Barbarossa Brothers is designed to glide through even the thickest of facial hair. The chunky handle provides a sturdy grip even when covered in water and slippery shaving ointments and it comes in a rather neat little gift box, complete with 10 replacement blades.
Buy now at Barbarossa Brothers
Bambaw Safety Razor
One of the positives of using a classic double-edge razor is it doesn't create any plastic waste. But Bambaw has taken things a step further and made this one out of bamboo. The brand's approach to shaving creates zero waste as both the blades and the handle are recyclable. A great shaving option for the eco-minded consumer.
The Best Modern Safety Razors
Bulldog Bamboo Razor
Bulldog's Bamboo razor has been a big hit thanks to its eco-friendly design and excellent shaving performance. It features a recycled bamboo handle and uses recycled steel blades. There are five blades in total combined with a lubricating strip with aloe vera for a smooth, comfortable shave.
Bolin Webb R1 Mach3
If you're looking for something that's going to match the carefully considered modern aesthetic you've been cultivating for your bathroom, this could well be it. Bolin Webb's R1 razor would look equally at home on your bathroom shelf or on display at the Tate Modern. It's a truly stunning piece of design that uses tried-and-true Gillette Mach3 blades for a reliable shave.
GilletteLabs Heated Razor
We know we said that razor marketing gimmicks should be avoided but hear us out on this one. GilletteLabs' heated razor is actually a really cool and useful idea. It emulates a traditional hot shave, allowing for a super-close and comfortable shave. Plus, it allows you to keep the blades nice and warm without having the hot tap running, providing a welcome bit of comfort on cold winter mornings.
Wilkinson Sword Hydro 5
This five-blade option from Wilkinson Sword is a great, budget-friendly razor that produces a brilliant shave. The strip next to the blades is actually water activated and turns from solid putty to soothing gel when wet. It also has a nice 'open' design, which means it's less likely to clog up with hair quickly.
The Best Subscription Razors
Harry's
Harry's enables customers to receive replacement blades directly to their door for less than £2 per blade. It's all worked out based on how often you shave so you don't even need to think about it once you've signed up. Plus, you can try it out for free. Just pay the postage and Harry's will send you a razor, a set of blades and a can of shave gel for free to see how you like it.
Gillette Shave Club
A starter kit from Gillette Shave Club will give you a Gillette razor of your choice, one blade refill, some shave gel and a travel cover. From then on, subscribers save 15% on blades which are delivered based on your shaving habits. It's a great way to save a little money with one of the most respected brands in the industry.
Cornerstone
Cornerstone delivers high-quality razors, blades and other grooming goodies to your door, in tailor-made packages to suit your needs. The brand's razor is the star of the show, featuring a surprisingly lightweight metal handle which you can even opt to have engraved.
Grüum
Fans of that Scandi minimalist aesthetic will love the clean, uncluttered styling of Grüum's shaving gear. The brand's Oska razor features a nice shapely, ergonomic handle and comes in bold, eye-catching colours. There are a number of different subscription plans to choose from so you can choose exactly what you'll get each month. It's not just blades either. You can even have grooming goods like moisturiser and face wash delivered by subscriptions too.
The Best Disposable Razors
Gillette Sensor3
Gillette's Sensor3 is the world's best-selling 3-blade disposable razor, and for good reason. Its three-blade, 40° pivoting head allows it to effortlessly adjust to the contours of your face, giving you a closer shave, while the integrated Lubrastrip with water-activated Comfortgel technology reduces drag and ensures it won't irritate the skin. A travel bag must have.
Truefitt & Hill Lightweight Holiday Razor
This premium take on the classic disposable razor is perfect for those who need a great shave on the go but don't want to compromise on quality. They're lightweight, the handles are widely recyclable and a pack of five even comes in a special velveteen carry bag.
Bic 3 Sensitive
The old faithful Bic razor has been on the scene for a very long time. Simply put, it does what it says on the tin. Nothing more, nothing less. This particular version is a bit of a step up from the classic one-blade option, instead offering three blades for increased comfort and a more efficient shave.
Wilkinson Sword Xtreme 3 Eco Green
This flexible razor from Wilkinson Sword is another more sustainable alternative to standard disposables. The handle is made from 95% recycled materials and even the packaging is made from 90% recycled paper. It also features two gel strips for increased smoothness and aloe vera to soothe as you shave.