The Greatest Men's Style Icons Of The 20th Century
They say clothes make the man, but sometimes it's the other way around. Over the course of the 20th Century, there have lived a select few men whose sartorial charisma and natural flair was so potent that they helped shape modern menswear in their image.
These are the guys who taught the world how tailoring should look, how to dress with personality and the importance of a good haircut. They set fashion trends as opposed to following them and revolutionised the contents of wardrobes across the world in the process.
If you're stuck in a styling rut and lost for inspiration, look no further than these 20 style icons of the 20th Century for guidance.
Clint Eastwood
There are few men capable of making us consider a wraparound poncho as a viable outerwear option, but Clint Eastwood is one of them. The American actor brought some of the western genre's biggest blockbusters to life and became something of a fashion icon in the process. He embodied rough-and-ready, masculine style like no one else and was a master of rugged textures and coarse fabrics.
Elvis
When we think of Elvis today, it's usually the jumpsuited, glittering, showtime version that first comes to mind. Iconic, yes, but probably not something the average man should try to emulate. Away from the stage, however, is where Elvis really shone from a menswear perspective. The high-waisted trousers, Cuban-collar shirts and Harrington jackets he favoured throughout the 1950s marked him out as a style icon and formed the dressing habits of a generation. Not to mention his signature pompadour and its influence on modern men's hair.
Robert Redford
A Hollywood legend and sartorial icon of classic cinema, Robert Redford's preppy, all-American style served to inform the 1960s' and 1970s' ideals of masculine dressing. His khakis and loafers were in stark contrast to the rugged, rebellious look made famous by his contemporaries Marlon Brando and Steve McQueen but arguably did just as much to influence modern menswear for the better.
Marvin Gaye
From his sharply tailored Motown days to the pre-hipster chic he adopted in the latter decade of his life, Marvin Gaye was always a man who knew what worked for him. He understood how to deploy statement pieces, and often wore red somewhere within the chambray and denim-heavy outfits he favoured during the 1970s. That said, nothing he wore ever felt contrived. It was almost as if he'd simply thrown his clothes on without a second's thought and was unaware of just how fantastic they looked.
Paul Newman
Actor, director, philanthropist, entrepreneur, race car driver – Paul Newman's career history reads like a list of everything a 10-year-old boy wishes to be when he grows up (and every fully-grown man for that matter). But it wasn't just on the big screen or the race track that he excelled, he was also a master of menswear. Whether in an immaculately tailored suit or a simple white Oxford shirt and chinos, he always looked the part.
Marlon Brando
From the simple single-breasted jacket to the leather motorcycle jacket, Marlon Brando had a way of taking a garment and making it his own. He was all about the basics – things that look as good seven decades later as they did when he first wore them – and played a significant role in the T-shirt's transition from humble underwear to a staple of the modern wardrobe.
Steve McQueen
From chunky shawl-collar cardigans to three-piece suits and silk ties; from shearling coats to battered old leather bombers. No matter what Steve McQueen wore, he always looked like he was born to wear it. This coupled with his innate confidence and eye for a good fit goes some way towards explaining why he's still called "The King Of Cool" half a century after departing this world.
Sammy Davis Jr
A lead member of Frank Sinatra's Rat Pack, Sammy Davis Jr.'s talent for entertaining was matched only by his appreciation of a well-cut, one-button suit. A master of mid-century tailoring, Davis became the first black man to appear on the cover of GQ in 1967, cementing his place as a style icon of the absolute highest order.
Cary Grant
In the winter edition of GQ 1967/68, Cary Grant wrote that although he was often asked for style advice, he never really considered himself to be a well-dressed man. We're sure that anyone who has seen a photo of him in one of his trademark razor-sharp suits would beg to differ. Suave, elegant and sophisticated, Grant had a deep appreciation for tailoring and although he often wore expensive, bespoke suiting, he always maintained that many of his favourites were reasonably priced and ready-to-wear.
James Dean
When you consider the sheer volume of style icons from the 1950s, it's quite an achievement to emerge as the most prominent. Despite his untimely death at the age of 24, James Dean managed to make a bigger mark on menswear in just a few short years than most make in a lifetime. His style was simple yet considered, focusing on timeless basics and impeccable fit. The best part is it's a way of dressing that the rest of us can easily replicate, as countless men have done over the last 70 years.
Miles Davis
Miles Davis' music is known for having been ahead of its time, and his style was much the same. The trumpeter came from a time when black artists were fighting for recognition as more than just simple entertainers and he used his sartorial chops, along with his art and music, as another tool in that battle. He took his style cues from the likes of Fred Astaire and Cary Grant, valuing sharpness above all else.. "I created a kind of hip, quasi-black English look," he wrote in his autobiography. "Brooks Brothers suits, butcher boy shoes, high top pants, shirts with high tab collars that were so stiff with starch I could hardly move my neck."
Gianni Agnelli
Often called "The Rake Of The Riviera" for his love of fast cars, boats, women and luxurious attire, Gianni Agnelli had a huge influence on classic menswear. Designer Nino Cerruti named him as one of his greatest fashion icons, alongside James Bond and JFK, and he even served as the inspiration behind men's style magazine The Rake.
Muhammad Ali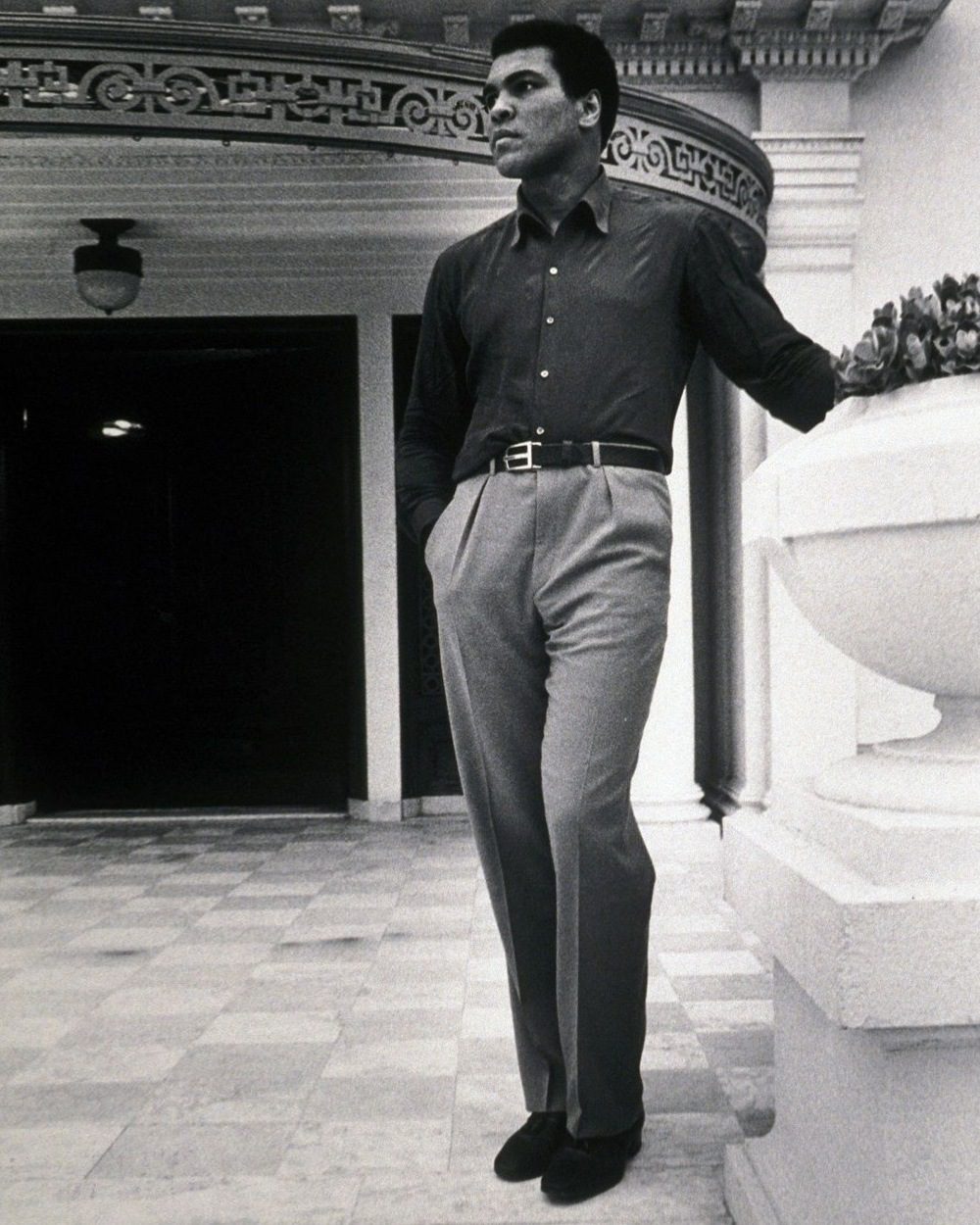 Float like a butterfly, sting like a bee and dress like you're meeting your girlfriend's conservative grandparents for the first time. Muhammad Ali may have been known for his flamboyant fighting style in the ring, but when it came to clothing, he liked to keep it understated and classic. Ali was one of the last athletes from a time when fighting and tasteful formalwear went hand in hand. God knows some of today's top fighters could stand to take a leaf or two out of his book.
John F. Kennedy
The idea of presidential cool may be dead in the water today, but there was a time when the leader of the free world could have taught us a thing or two about style. JFK's polished, preppy, conservative look captivated the world and inspired many a style-conscious man, including designers Thom Browne and Ralph Lauren. Not that it was particularly attention-grabbing, but then it didn't need to be. It was clean, considered and unassuming. Always stylish, but never showy.
Yves Saint-Laurent
From the moment Yves Saint-Laurent entered fashion he began to revolutionise it. He became the head of Dior at the age of 21 and saved the house from financial ruin before starting his own eponymous label and changing the way women dressed forever. He also knew how to present himself and was famed for his bold, horn-rimmed glasses and razor-sharp tailoring.
Bob Marley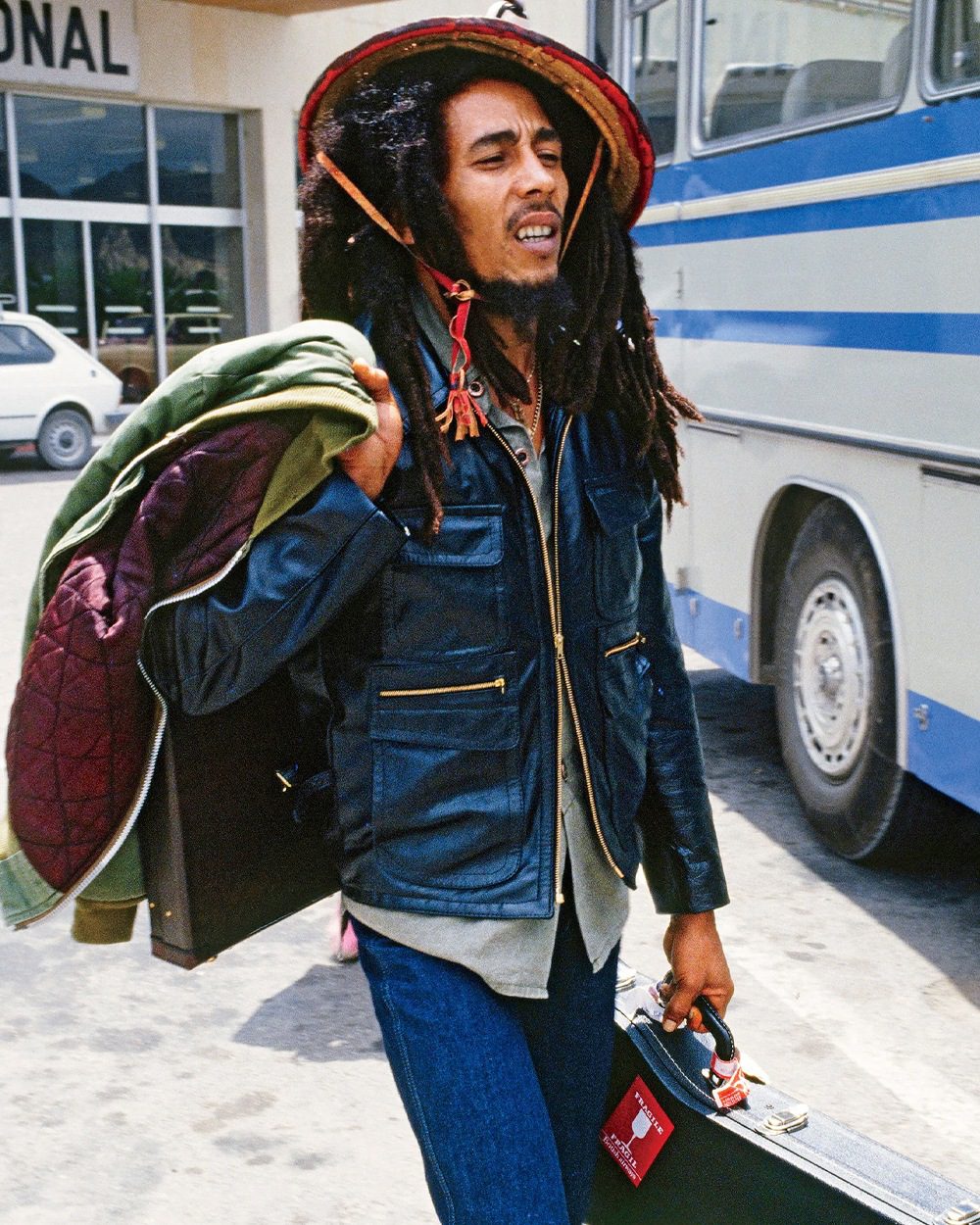 The double denim, the retro sportswear, the unbuttoned shirts and even the occasional pair of leather pants. Bob Marley's style was a patchwork mix of things that, on paper, really shouldn't work together but did. Why did they work? Because they were all hanging from Bob Marley, a man whose confidence and relaxed demeanour ensured anything he wore would look like it had been handcrafted just for him.
Clark Gable
It was common practise in the 1930s and 1940s for actors to wear their own clothes on screen. Let's just say that production companies of the time were really getting their money's worth when they cast Clark Gable. The Hollywood heartthrob was always immaculately turned out in broad-shouldered jackets, high-waisted trousers and his trademark pencil moustache and side-parted hair. His rugged masculinity was offset perfectly by the elegance of his neatly tailored attire – a "lumberjack in evening clothes," as MGM's marketing department liked to put it.
Alain Delon
Alain Delon famously dismissed a career in Hollywood as he didn't want to learn English. This was indicative of a laissez-faire attitude that extended beyond his work and into his wardrobe. It's almost as if Delon genuinely didn't care about what he wore, which somehow made whatever he was wearing look great. Sleeves were rolled loosely, shirts were unbuttoned liberally and everything was done with an overarching air of nonchalance. In other words, he embodied the very essence of cool and looked better in an open shirt and short shorts than most of us look in a tuxedo and freshly polished Oxford shoes.
Sidney Poitier
Widely regarded as one of the greatest actors of all time but often overlooked as a menswear icon. Sidney Poitier's classic understated style has remained consistent over the course of his entire career. A simple single-breasted suit accessorised with a striped tie was often all he needed to look the part and his ability to rock a tuxedo put him up there with the very best-dressed men in Hollywood.
Michael Caine
Bold-framed spectacles, roll necks, understated tailoring and a muted colour palette; Michael Caine's 1960s wardrobe was a masterclass in stylish minimalism and something even the best-dressed men could learn a thing or two about restraint from. He was also a fan of the double-breasted suit and had a knack for pulling it off without any of the associated stuffiness.