A Modern Man's Guide To The Best Hair Dyes (& How To Use Them)
A quick perusal of recent red carpet appearances shows that among the apex dressers are established Hollywood players who've barely aged beyond their prime, as well as a younger cohort of actors and entertainers who enhance their style through bold use of colour. What links them is a skilled use of hair colourant; invisibly blended grey, a shock of pink, or a leopard print scalp that makes a loud and proud statement for all to see. That's easy for the rich and famous, you say, with the best of the best on hand to advise, but is that obtainable for the rest of us?
Arguably, dyeing your hair is a multi-step chemical process that is best left to trained individuals. Especially when it comes to those punchy shades, because the hair needs bleaching first. That said, when it comes to matching your own hair colour to cover grey, it's getting easier and easier to do it at home and, if your hair is already bleached or very fair, you can have some fun with water-based toners without going to the salon every time.
Queer Eye's hair stylist, Jonathan Van Ness, at the launch of his own haircare range (JVN at Space NK) explained his simple hair colour rule: "never go two shades darker, or two shades lighter, than your natural shade." With the caveat: "unless you're happy to buzz it all off in-between". The shorter the hair, the easier it is to experiment.
Paul Windle, top industry veteran (he launched Bumble and Bumble) and founder of Windle Lab and Windle Salon in Covent Garden, London, predicts that the next big colour trends will be "primary colours, orange and green, and keeping the natural grey". Like tax returns and car insurance, those first grey hairs are an indicator that we're a proper grown up, even when we don't feel like one.
Men's Hair Dying FAQ
While everyone can appreciate a silver fox who looks brilliant, if you're not there yet, it can feel a bit premature to let the grey show. So, let's start with a few FAQs.
What do I need to consider before colouring my hair?
The main thing is the motivation. "Is it to empower your natural look, for a complete change, or to make a statement?," asks Paul.
"Skin tone is also important to consider, along with the maintenance for visible regrowth. Semi-permanent balayage treatments are lower maintenance, whereas scalp bleach and highlights are higher maintenance. All of these factors will help inform your colourist on where you want to go with it."
What can I do about my grey hairs?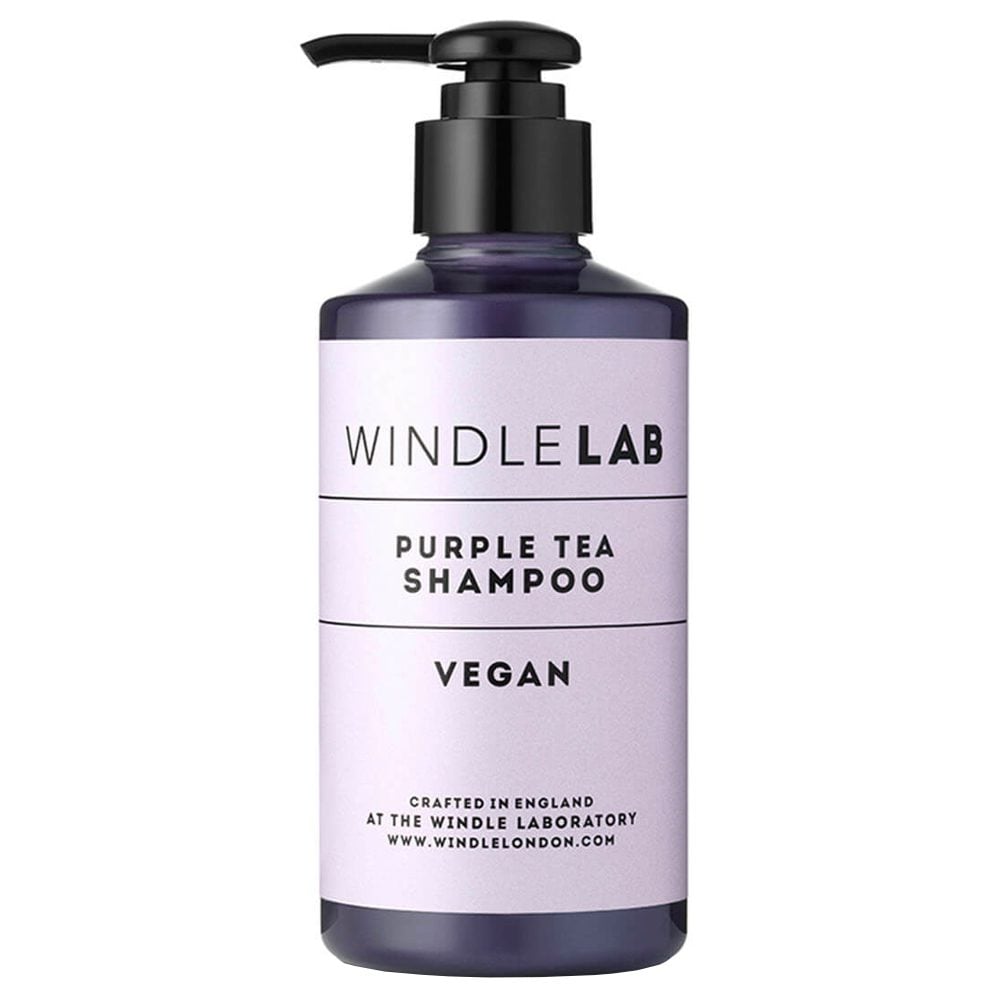 The biggest risk with covering grey is that it will look obvious. "Trying to hide the grey with a block colour can end up looking unnatural," advises Paul. "It's more about going grey through the ages, not going too dark and choosing the right colour for your skin type and beard, and it's important to use a blending technique to avoid that block look."
Got more salt than pepper up top? You can boost the brightness of the grey with a blue or purple shampoo, which will lend a cooler, icier look, while isolated areas can be retouched with a variety of products designed to target smaller areas.
How can I make the colour last longer?
Once you're happy with the colour, the next challenge is to maintain it. Like with many things, a bit of spit and polish helps them go the distance. Switching to a colour care shampoo (and conditioner) will help protect against fading, along with ingredients like creatine and anything that works to physically repair and rebuild the structure of the hair.
Fond of heat styling? Your hair texture and colour will also benefit from a colour protect spray.
My hair is weak and fine – can I still colour it?
"Weak, fine hair can be coloured," reassures Paul. "However, when your hair is brittle or breaking, which often happens when you use too much heat, you need to choose between colour or heat, as both deplete the condition of the hair."
"Sensitive scalp? Don't apply colour to the skin. Highlights and balayage are better choices for you as they avoid direct contact with the scalp."
To guard against damage to bleached hair, use a conditioning mask once a week to help condition, in your corresponding tone.
What are the benefits of salon colour versus D-I-Y colour?
Dyeing hair is chemistry, so in a salon it will be applied by a professional who has spent a long time training. "Salon colours have a much wider spectrum of possibilities, which can be tailored to suit your requirements and to enhance tones suited individually to the client," says Paul. This obviously comes at a higher price, whereas home hair kits cost less and save time, but if you get it wrong, you'll need to get it fixed.
Types Of Hair Dye Techniques
To discuss how to get your hair dyed by a colour technician, let's start with the range of techniques on offer. Here's a quick explainer of the common terminology:
Balayage


An update to traditional highlights, balayage is ideal for those who want to achieve that surfer look of lighter, beachy streaks created by the elements of sun and sea. "Balayage gives a natural visual look using a freehand technique. Techniques differ slightly depending on the colourist, but you essentially paint on the hair in areas where hair would naturally be lighter – for example around the face."
"Balayage isn't always blonde; to get the look you need to colour one or two shades lighter from the current colour of the hair for that lightened effect." It's also easy to maintain: "balayage gives a sun-kissed, grown-out look, a good introduction to colour, no regrowth, and lasts longer," says Paul.
Permanent Tint


For those wanting to keep their natural hair colour for longer, a permanent tint is a good solution. "This is a blanket, solid colour where you can go up to three shades lighter or darker than your natural hair colour. It provides 100% grey coverage," says Paul.
"For the first application, I would apply to the whole head. Future applications can be for regrowth only, applying tint just at the roots. You could then tone through the ends if required where colour has faded, using a semi-permanent tint on the ends only for five minutes to refresh the colour."
Semi Permanent


Anyone who wishes to dabble with the process before fully committing should opt for temporary colour first.  "[Lasting] up to 15 washes, semi-permanent is a good introduction to colour, can be applied all over as a global application or used to retouch roots," says Paul.
Most home dyes fall into this category.
Highlights (Full/Half Head)


Highlights, and lowlights, can add depth and range to your natural hair colour. Most typically, highlights isolate strands of hair to give a more noticeable, lighter look; lowlights add richer, darker tones. The latter can work well for fair-haired types who are starting to go grey.
"A full head of highlights is when the colour goes from the root to the underneath of the hair," explains Paul. "Half head of highlights is colour applied on the top half of the head only and is best suited for those with long hair or long layers. With short cuts there isn't enough hair to work with. Half head highlights just colour the top layers."
One thing to note: before your appointment you may be required to come in for a patch test; where they put a tiny bit of product directly on the skin, usually just behind the ear. This is to check you are not allergic to any of the dye ingredients in advance of the full treatment. To be on the safe side, you should always do this as per the instructions with home dyes.
Colour Corrections
"Post lockdown, we have been correcting at lot of home hair colour, mainly bands within the hair where clients have mismatched the colour or chose a colour that was too dark for them," explains Paul.
"We often use colour correction when taking the hair from light to dark, and dark to light. We 'pre-pig' the hair using a warm tone and then apply the desired shade. If going from dark to light we would use colour remover or cleanse the hair using lightener first."
How To Use Home Colour
Read the instructions. Read them properly. This is not like flat-pack furniture where you can reverse ferret to correct a mistake later. Some dyes should be applied to dry hair, and some wet, so don't assume anything about a new product even if you've dyed your hair before. Start by prepping your station, so you have everything you need close to hand – such as a towel that you don't mind staining, a comb, a bowl to mix the contents in (such as an old plastic pot) and a clock timer.
Bare-chested is best or wear an old T-shirt. Watch what you're standing on as well – preferably a wipe clean surface. Do the patch test as advised, and while you wait, apply a thick layer of moisturiser or a thin layer of Vaseline just around the hair line to prevent any staining on the skin.
Put on the gloves provided before you mix or apply and go easy, and slowly, so as not to overload the hair with product. Chuck out any leftovers – you can't save any remaining product for later.
The Best Home Hair Colourants For Covering Grey
L'Oréal Men Expert One Twist Hair Colour
One Twist grey cover from L'Oréal Men Expert removes several barriers to the D-I-Y process. First, no prep is required as the twist mechanism premixes the formula instantly; second, it has a built-in brush applicator which makes it fast and accurate to apply; third, the QR code opens a Shade Matcher so you can find the right tone from multiple shades.
Apply the gel formula (which doesn't drip) to dry hair and rinse out. Easy.
Josh Wood Blending Brush Root Touch Up
One of the fashion industry's most prolific colourists, Josh Wood's Blending Brush makes short work of an isolated grey streak. Temporary colour that lasts for up to three washes – available in three shades from blonde, medium and dark brown – this can tide you over between appointments or home applications.
The brush applicator makes it easy to apply; use on wet or damp hair and dry in.
Superdrug Hair Colour For Men
Superdrug's own brand comes in four shades and gives consistent colour for up to six weeks. You need to mix the creme colour with the developer, and it can take a bit longer for the colour to take effect than the five minutes advertised.
It doesn't come with a mixing bowl or an applicator, so you'll need to use your own.
Just For Men Original Formula
This classic dye is available in a range of shades. You have to mix the colour base and the developer together, then apply directly from the bottle onto the roots of dry hair. Shake it first, with your finger covering the nozzle, to avoid giving your bathroom walls a Jackson Pollock. Then use your hands in a circular massaging motion to distribute the product all over. Rinse and shampoo.
Just For Men Touch of Grey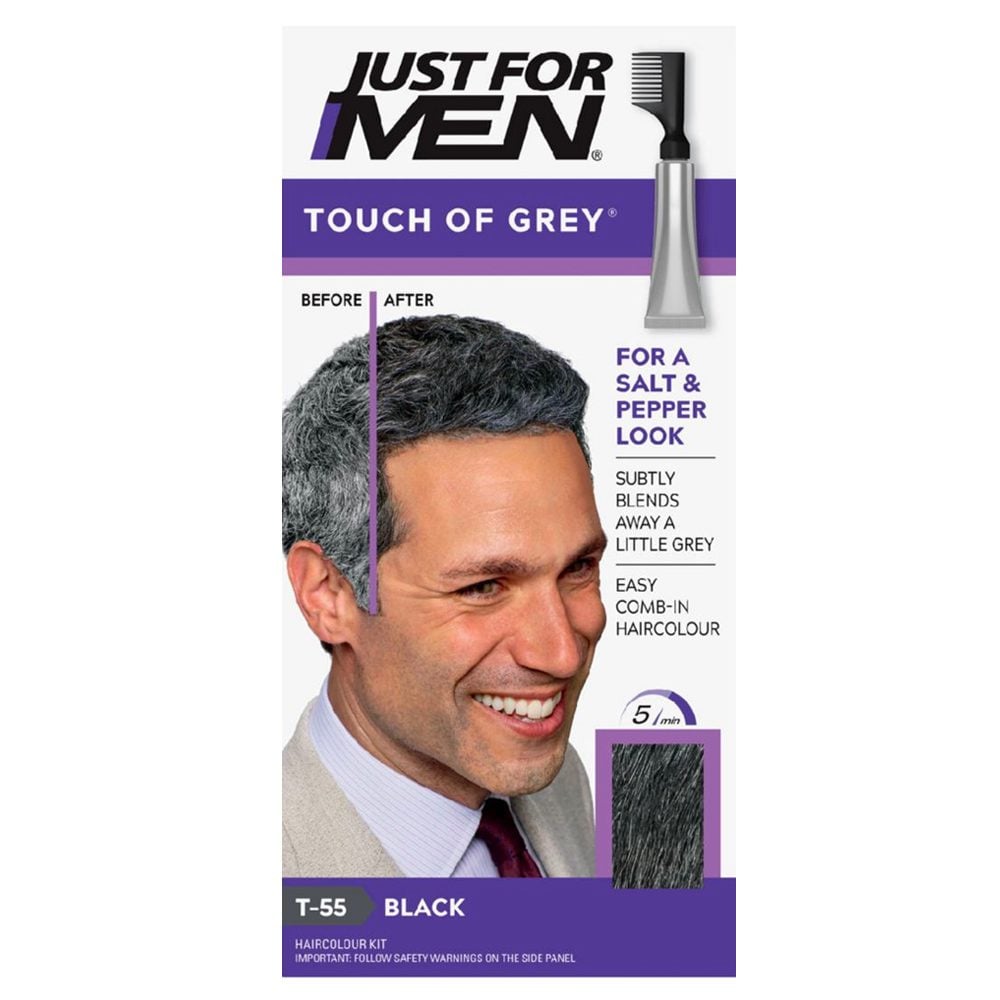 When you want to add more pepper to a salty head, you need Just For Men Touch of Grey which will darken predominantly grey hair. There's nothing to mix and it comes with a comb attachment. Attach the comb to tube, squeeze out a little product so it's evenly spread along the comb, then brush through clean, dry hair, going from front to back and then side to side to cover all the roots.
Best Home Colourants for Vivid Colour
Schwartzkopf LIVE Men Silver Chrome Permanent Colour
Frost your tips like Kanye, Pharrell or Jaden Smith with this cool platinum permanent colour for bleached hair. Be absolutely sure you want to commit, as this stuff isn't washing out.
Crazy Color Semi-Permanent Pillarbox Red Hair Dye
Want to go full fire like Lil Nas X? This semi-permanent dye from Crazy Color will put you in the spotlight for up to 10-12 washes. You can even use it on un-lightened hair for a more muted, tonal look. Crazy Color has a huge range of easy to use semi and permanent colours across a full rainbow spectrum.
Bleach London Super Cool Colour Gobby Pink
Pink hair fans include Jonah Hill, Zayn Malik, Jared Leto and Evan Mock. Bleach London is the hair colour brand from Alex Brownsell and Sam Teasdale, who's sister, Lou Teasdale, was the main hair stylist and groomer for One Direction.
Take the plunge with a range of semi-permanent shades from candy floss pastel to hot fuchsia that fade out between two and 30 washes. The cream formula is easy to apply, but you'll need to buy a tint brush separately.